Converting HTML to XML and XML to HTML
Using Stylevision 2004 and snapbridge studio to convert HTML to XML and Viceversa. XML is a technology that allows the delivering of the structured data on the Web. This uses HTML to present the data. If HTML and XML are used together, they allow the data to be more extensible for use in Web applications.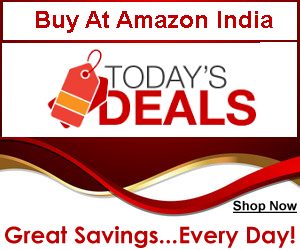 The Style vision 2004 is a HTML importer that allows the HTML to XML migration very easily and efficiently using a drag drop interface. This interface allows you to separate presentation from content. HTML importer can convert any HTML web site an XML enabled Web site using the XSLT style sheet for presentation. With the help of style vision 2004 you can easily perform the migrations between HTML and XML.Stylevision 2004 can separate the data automatically from the presentation markup, which generates an XML file, XML Style sheet, and an XML Schema.
Another tool that allows you to convert any HTML document to XML is the Stylus Studio's Document Wizard. To use this do the following steps:
Click File -> Document Wizards on the Stylus Studio Menu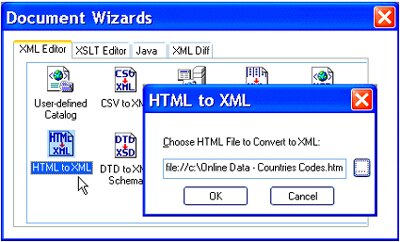 Choose the HTML document that you have to convert to XML and then click O.K
Stylus Studio converts your HTML document to XML automatically and displays it in the
XML editor's text view.
CONVERSION OF XML TO HTML:
Similarly, the XML documents can also be converted into the HTML documents. This is done using Snapbridge XStudio .It is a very powerful and a very efficient environment for building information integration solutions based on eXtensible Markup Language (XML). The Snapbridge XStudio supports the creation of XSL, XSLT for the integration and publication of the information.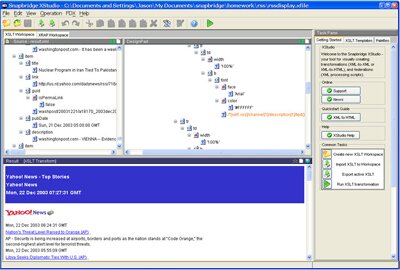 Snapbridge studio can create all the XSL code required .All that the user has to do is to just provide the input, some sample of the output, and some simple mapping. Create XSL style sheets form HTML or XML files automatically. XPath commands are created when the input is mapped with the output.
FREE Subscription
Subscribe to our mailing list and receive new articles
through email. Keep yourself updated with latest
developments in the industry.

Note : We never rent, trade, or sell my email lists to
anyone. We assure that your privacy is respected
and protected.
_______________________________________